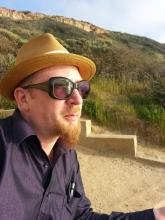 6:15pm - September/20/2018
Speaker: Jesse Knutson (University of Hawaii at Manoa)
Title: "An Orgy of Order: the Bhaṭṭikāvya and the Reproduction of Sanskrit Aesthetico-Political Life"
Location: South Asia Studies Seminar Room, room 551, Van Pelt Library

The 7th-century Sanskrit mega poem (mahākāvya), Bhaṭṭikāvya, simultaneously tells the story of the Rāmāyaṇa epic, while embedding a comprehensive illustration of Pāṇinian grammar as a system. This is not just a textbook skillfully buried beneath a poem however. Grammatical variegation itself constitutes a sustained aesthetic effect, and the later tradition regards the work unanimously as a 'science-poem' (śāstrakāvya) rather than 'poetic science' (kāvyaśāstra). It offers elements of a primal, pre-rhetorical poetry—what Roman Jakobson evocatively called 'imageless poetry', 'poetry of grammar and grammar of poetry'—and yet it takes an almost incomprehensible step further by embodying the science of linguistic analysis itself (Pāṇini's Aṣṭādhyāyī), sublating not just the distinction between signifier (śabda) and signified (artha), but verbal art (kāvya) and verbal science (vyākaraṇa) themselves.
Considering the status of grammar (vyākaraṇa) in premodern South Asia as the mother of all sciences, and the Rāma story as the father of all poetic narrative, the work becomes iconic of a zero degree of cultural order that has eluded historicization. Yet this aesthetico-scientific ordering of orders might be the palimpsest of both a particular and more general political historical dynamic—a problem of kingdoms and empires—where the literary institution's immediate imbrication forces us to think about what we mean when we talk about classical South Asian literature (Sanskrit kāvya) in the first place.