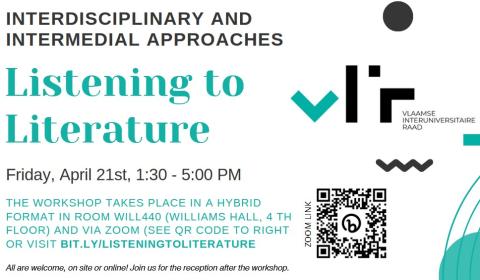 1:30pm - April/21/2023
THE WORKSHOP TAKES PLACE IN A HYBRID   FORMAT IN ROOM WILL440 (WILLIAMS HALL, (4th floor) AND VIA ZOOM (SEE QR CODE TO RIGHT on LINK) OR VISIT BIT.LY/LISTENINGTOLITERATURE
 
The 2023 Brueghel Chair and the Francophone, Italian and Germanic Studies are hosting a workshop on the acoustics of literature and the politics of listening. Participants will present their current research that covers a broad range of topics and approaches, reflecting diverse aspects of this
growing and prolific interdisciplinary research field. 
This workshop is made possible thanks to the generous support of the VLIR (Flemish Interuniversity Council, sponsor of the Brueghel Chair) and the FIGS department Penn. 
All are welcome, on site or online! Join us for the reception after the workshop.
 
Caroline A. Kita (Washington University in St. Louis)
"Listen Up!": Radio Programming Magazines, Radio Drama, and the Creation of
Democratic Listeners in Postwar Germany
Anjuli Joshi Brekke (University of Wisconsin-Parkside)
Broadcasting Stories of Racism on the Radio: A Soundtrack of Lost Control
Chris Mustazza (UPenn – PennSound)
Historical Hearing: Ways of Listening in the Poetry Audio Archive
Ian Whittington (University of Mississippi)
Austin Clarke and the Sounds of Irish Modernism
Inge Arteel (UPenn and Vrije Universiteit Brussel)
Choric Voices in Ernst Jandl and Friederike Mayröcker's Radio Plays
yasser elhariry (Dartmouth College)
Gramma, Phono, Unit (Luc Bénazet)
 
Program:
Organized and moderated by Inge Arteel.
For more information, email Inge.arteel@vub.be
For abstracts, visit bit.ly/listeningtoliteratureabstract